Funds from the BMZ (Federal Ministry for Economic Cooperation and Development) provided by the Schmitz Foundations.
In December 2020 and April 2021 we already reported about our cooperation with NairoBits. Now we have reached a milestone in funding the equipment for the ICT classroom at Kangemi Youth Centre.
Last year, our fundraiser contacted the Schmitz Foundations in Düsseldorf. They support small projects such as the ones we carry out at our slum schools. In order to be able to apply for a grant from the Schmitz Foundations, we first had to pass a so-called "Trägerprüfung". In February 2021, we actually passed this test and then immediately applied for funding for our NairoBits project. In one of our slum schools, the Kangemi Youth Centre, a classroom was renovated last year and made burglar-proof so that it can accommodate an ICT (Information Communication Technology) class with 30 pupils.
Classroom at the Kangemi Youth Centre before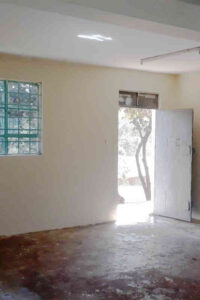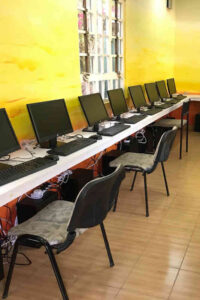 Outlook: future use as ICT training room (example Reuben Centre)
Here, unemployed young people between the ages of 17 and 24 are to be given the opportunity to improve their education in order to have more chances on the labour market.
It was a long way until our 20-page project application was written in a way that it could be accepted by the Schmitz Foundations. But then everything went very quickly. The grant agreement between the W.P. Schmitz Foundation and nyendo.lernen hand in hand UG for funding of the NairoBits project with 10,000 € was signed on 3 August 2021. We immediately requested a first instalment of 8,000 €. The sum was received in our account on 12.08.2021. In addition to the funding from the W.P. Schmitz Foundation, nyendo.lernen hand in hand UG has to contribute 3,570 €. We have now increased the first funding instalment of the Schmitz Foundation of 8,000 € to 10,000 € with the own funds generated by our Nyendo schools and have already transferred it to the account of our so-called "southern partner", the NairoBits Trust in Nairobi, on 13 August 2021. They are currently obtaining comparative offers for the laptops. We hope to be able to report on the start of the ICT class in the next newsletter.