Community based Initiatives for Education, Finance and Agriculture (CIFEFA) 2019
Thanks to donations, especially from our nyendo-studentcompanies, and the dedicated commitment of many people, we were able to accomplish a lot of great things for the schools and thereby for the children in Kawangare and Kangemi.
Memorandum of Understanding (MOU)
The cooperation of the CIFEFA schools in Nairobi and the nyendo.lernen hand in hand UG has been mutually thought through and checked, resulting in a new agreement that has been written down and signed already: This "Memorandum of Understanding" (MOU) is now mandatorily regulating how we as a learning-partnership of "Changemakers" can make a joint effort to create a world, where all of us can live our lifes together in freedom, equality and unity.
Tonny Karori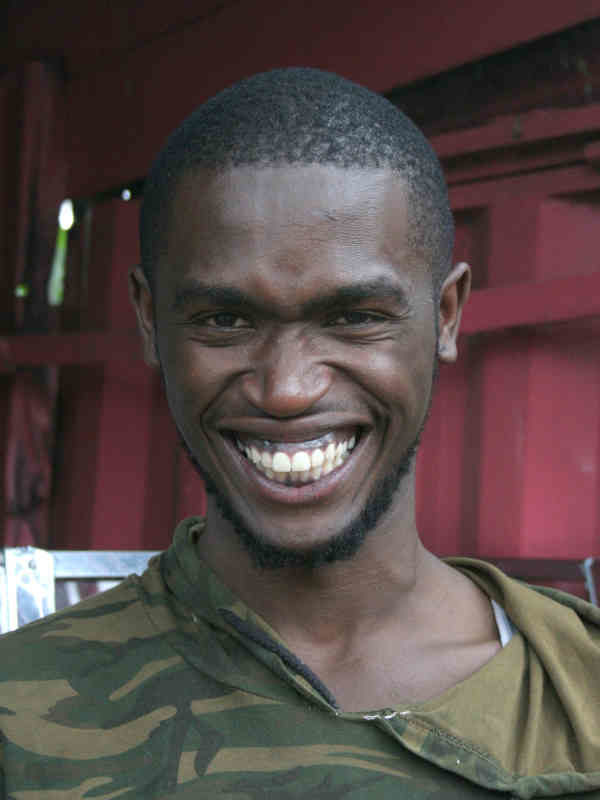 Tonny Karori has been hired at the Office Nairobi, he will be working two days per week. He coordinates all current projects with a lot of effort, reliability and the creativity needed. Tony supports the headmaster regarding the filling of applications, execution and documentation of projects as well as the monthly delivery of a financial report. Moreover, he keeps contact with other organizations in Kenia, for example Nairobits, an educational project that enables graduates to become trainees in the IT-industry
Our guests in Nairobi, whether they are coworkers or partners from around the world, are assisted and joined by him, especially our pupils on their project trips. The write-ups of the youth from Prien and Evinghausen who visited their local partnerschools in spring, give an impression of how thoughtful, committed and friendly Tonny handles his tasks.
He made a huge impact by organizing the CIFEFA-conferences of the headmasters on a regular basis and also makes sure there is a comprehensible and transparent documentation and a list of resubmission at those conferences.
Core Group in Nairobi
In general, it is reportable that required meetings are taking place on a much more regular basis now. The Core Group, the performance team in Nairobi consisting of Tonny, Felistas, Susan and Simiyu, is for example meeting up every wednesday. The whole team and individual project groups frequently come together, too.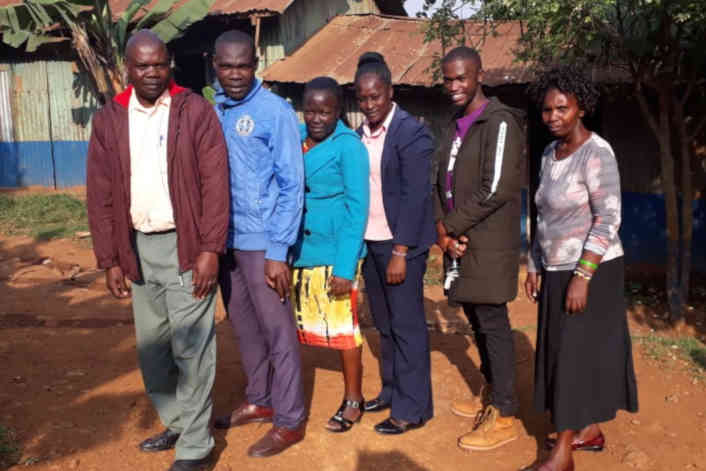 From left to right:  Joseph Simiyu, Charles Oduor, Susan Luboko,
Veronicah Nduku, Tonny Karori, Felistas Kiamba
Projects in Kenia
Based on the transcripts, us in Europe can always comprehend the current status in Kenia, which projects are doing well and which are stuck, and also those big and small difficulties that have to be dealt with.
Kangemi Youth Centre (KYC)
A special success for us is the implementation of a first "maker space", a little carpenter's workshop for school furniture on the terrain of the Kangemi Youth Centre. In Marsch 2019, first the work benches have been placed in the building that was constructed for the purpose. Students and teachers were schooled in handling wood and tools by Bart Eddy and his "Sunbridge International Collaborative"-team from Detroit – now they have the skills to build school benches that are much needed. As soon as they have made enough benches to fulfill their own demand, the carpentering could be an opportunity to generate an income by selling the furniture to schools outside of the CIFEFA-network.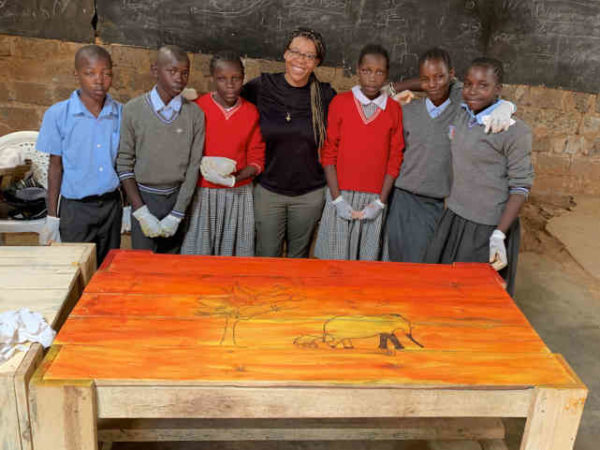 Maker space – Bart Eddy and his team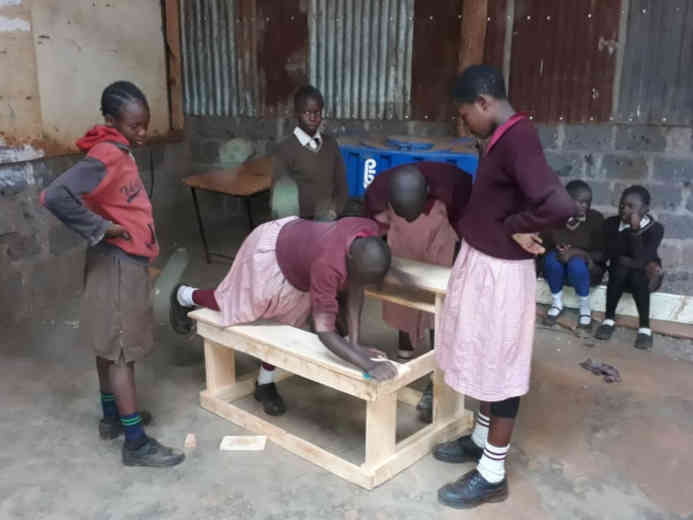 Maker space – School benches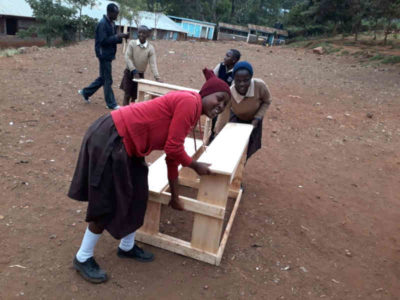 Five Star Academy
With the financial support of the Evinghauser students company JAMII, the project "Drinking Water Supply" at their partnerschool Five Start Academy has been completed! The school from Charles Odour is now connected to the public water supplying system, so that the pupils do not have to take plastic canisters and go buy drinking water for people and the garden before the classes even start.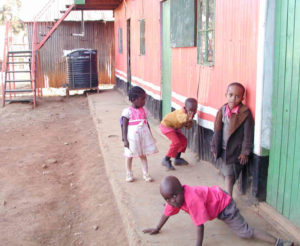 Five Star Academy, Pupils in front of the old water tank
Bethel Community Development Center
At the Bethel school – that does not have a European partner school yet – we were able to use funds from the CIFEFA-pot to install new toilets and thereby improve hygiene standards that were unbearable before.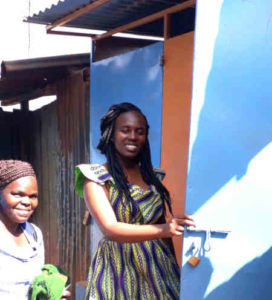 Bethel Community Development Center, New toilets 
CocoVita
The cooperation with the coconut farmers-initative CocoVita in Kaloleni has been brought up on solid ground: The Upendo-Tamu-Team from Rosenheim has successfully made an effort to get sponsorship from "Children for a better world" . This money was for example used to buy machines that have now been lent to CocoVita and raised in place. This means that production costs have decreased while capacities are rising, and as a result CocoVita is able to buy more coconuts from different farmers.  Now the planting and especially growing of coconut trees is a reliable and sustainable source of income and they are not felled to get wood charcoal anymore.
The student group from Prien and Evinghausen also visited Kaloleni this year and got an impression of the living situation of poor people in rural areas. Future project visitors will probably be able to help in the production of coconut oil with those sponsored machines.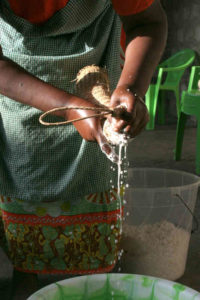 CocoVita – Manually pressed coconut milk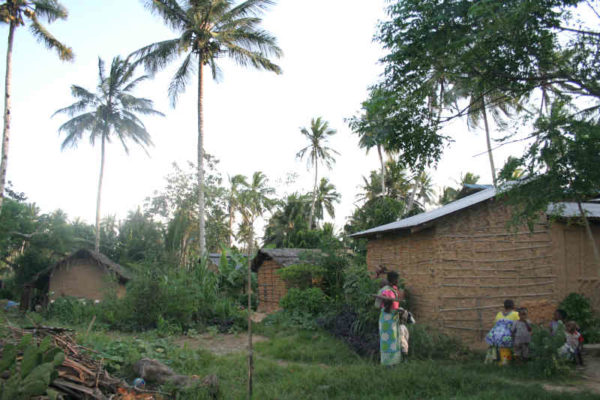 A teachers' village for the Kangemi Youth Centre (KYC)
A team of students from the architecture professor Prof. Francis Kéré of the Technical University Munich have been guests in Kenia. After some detailed research and a lot of interviews, they created designs for teachers' homes and a guesthouse on the property of the Kangemi Youth Centre.
Since the judicial and financially situation regarding the property has been solved thanks to the endless efforts from Joseph Simiyu, Headmaster of the KYC, this great project is heading further towards its concretion. Remembering that the teachers' salaries at the CIFEFA schools are 50 € per month on average, from which 30 € are used to finance the rent for a shanty in the slum, it becomes clear how important it is to take care of affordable and appropriate accommodation for the teachers – this helps to bond them to the schools and also reduce the frequent fluency in  staff that is a result of financial difficulties.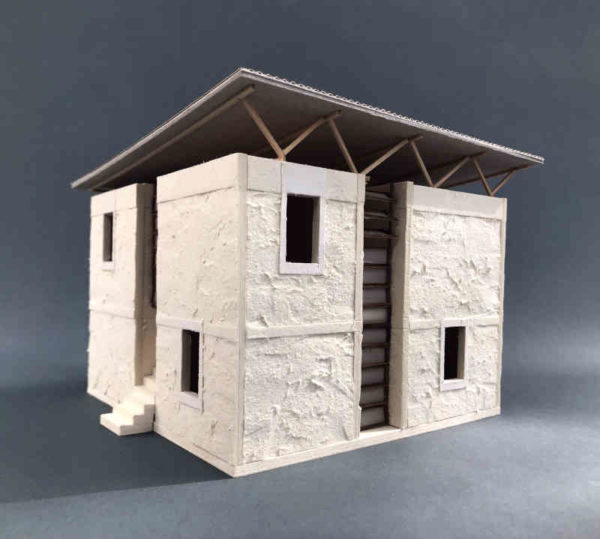 For that exact reason, it is a big concern to us to ensure the payment of teachers' salaries during holiday months in cooperation with our Kenyan partners. The schools are legally closed for four months each year. During this time, no tuition is generated and therefore the teachers do not receive their wages. For the first two months of holiday, which means in April and May, we were able to provide the necessary resources to pay all of the teachers.
All those things are only possible as there are so many people on both sides who constantly put in an effort. This again proves: There are various ways to shape globalization – and for that we are very grateful!