The nyendo family is very proud that the NairoBits project is making such great progress. With the inclusion of nyendo in the Schmitz Foundation and the expected financial resources, it is now possible to move the project forward well and with NairoBits we also have a professional contact person on site.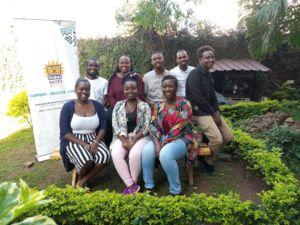 The first course is scheduled to start in May. In cooperation with the non-profit organization NairoBits, an IT learning centre is being built at the Kangemi Youth Center, where around 30 young people will receive IT training from May 2021. Both the future students and the teachers of our partner schools have high hopes for this project, as IT skills are absolutely necessary for a good education in Kenya.
Joseph Simiyu, Headmaster of the Kangemi Youth Center: "I believe this will be a huge potential for this program of NairoBits, to transform majority of youths in the slums of Kangemi and Kanwangware.
What you should know about NairoBits
When was it founded?
– NairoBits is 21 years old; founded in 1999.
How did it start?
– NairoBits started with an ICT class of 20 students who, at the end of two months, had created their own websites with self-made photos of their city, stories and self-portraits and participated in an online exchange with Dutch students.
What do we do?
– NairoBits trains ambitious young people from disadvantaged backgrounds in ICT, entrepreneurial, creative and life skills. The aim is to transform the lives of these youth by building their skills and changing their mindset – from vulnerable to empowered people who can earn a living and thereby uplift their communities.
Number of students enrolled in NairoBits programmes since January 2021?
– 268
Number of direct beneficiaries so far?
– NairoBits has trained over 6000 students so far.
Alumni network?
– NairoBits' alumni network is extensive and many of them work in leading tech companies, advertising agencies and banks, e.g. Ogilvy, NCBA, Bank of Kigali
Where are we based?
– NairoBits is based in Nairobi, Kenya and works in urban informal settlements (slums) in Kenya.
Which slums are we working in?
NairoBits is located in Mathare, Kariobangi, Mukuru and Kibera slums, within the following centres:
– Youth in Kenya (YIKE) Training Centre in Kariobangi
– Oasis Training Centre in Mathare
– Ruben Training Centre in Mukuru
– Mirror of Hope Training Centre in Kibera
– Wanawake kwa Wanawake Training Centre in Kibera
NairoBits employees
– Magdalene Wanjugu – Managing Director
– John Isika – Finance and Administration Manager
– Tracy Michelle – Programme Officer
– Sam Nyamwange – Business Development and Sustainability Officer
– Leah Irungu – Partnerships and Linkages Coordinator
– Martin Gathu – Lead Trainer
– John Mwendwa – Lead Design Trainer
– Ken Wachira – Design Trainer
– Hope Naisali – Office Administrator