After the lockdown – First impressions from Kangemi in January 2021
New to the Nyendo Team Nairobi is our staff member Ndanu Brown. She is re-establishing our office at Kangemi Youth School (KYS) and will be on site for one day each week. On 19 January, Ndanu Brown and I visited our friends at four schools together and were warmly welcomed. With delight and surprise, we found out that 82 out of 97 community schools have reopened.
The Kangemi Youth Centre opened with 10 classes, 150 students and 12 teachers,
Evemon Education Centre with 9 classes, 162 students and 10 teachers,
Kanyorosha Self Help School with 243 pupils and 12 teachers and
Love School Centre with 11 classes, 358 pupils and 22 teachers.
Each school is individual and different from the others, but everyone agrees:
"Not all parents can pay the school fees, but no one is left behind."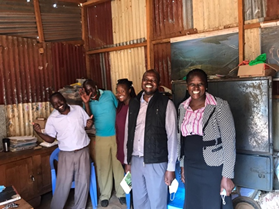 Evelyn Kimani, headmistress of Evemon, offers gardening lessons in addition to the actual classes, which the students are very interested in. At Kanyorosha Self Help School, there are some projects taking place in the afternoon, such as cleaning the environment, computer and library lessons or sports activities like football. Veronicah Nduku, the headmistress of the Love School Centre, offers beadwork, vegetable planting and basket knitting. And finally, Kangemi Youth School will open the first IT training centre in Kangemi in the next few weeks in cooperation with nyendo and NairoBits.
All Headmasters/-mistresses are very excited about our new project NairoBits and hope very much for a better IT education for their students and teachers.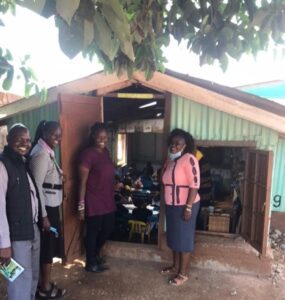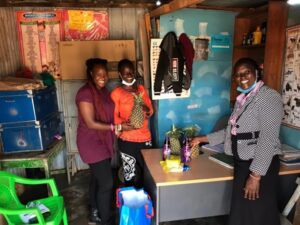 Some questions for the headmasters/mistresses:
Ndanu, nyendo office Nairobi:
What does the IT centre, which will soon open at KYS in cooperation with NairoBits and nyendo, mean to you?
Simiyu, Headmaster of KYS:
I believe this will be a huge potential for this program of Nairobits to transform majority of youths in the slums of Kangemi and Kawangware.
Evelyn, Headmistress of Evmon School:
Developing digital learning through Nairobits will enhance the self effiiency of the pupils and their talents.
Ndanu:
And what do you expect from the cooperation with nyendo?
Patrick, Headteacher of Kanyorosha Self Help School:
I hope to see growth of the children in Kangemi in relation to education and business.
Veronicah, Headmistress of Love School Centre:
"To have a secured spot at school for the children and better salaries for their teachers."
Voices of the pupils in Kangemi
Ndanu asks the students about their preferences, dreams and career aspirations.
Alex Maunda, KYS, wants to have a good and peaceful life for his family and himself in the future.
Stecy Khadiolo, another student at the Kangemi Centre, is in seventh grade. She is very interested in school subjects like science and does very well in her exams, including K.C.P.E. (Kenya Certificate of Primary Education). She has a dream for the future: Opening an orphanage for children and providing a home for them.
The students at Evemon School want to become dancers, singers, doctors and lawyers.
Edna Auma is 12 years old and in grade 4. She has been attending Kanyorosha Self Help School since 2020. She likes school because she learns horticulture and cooking. Her favourite subject is mathematics. Her dream is to own a hotel. She would like to know more about nyendo and the cooperation with CIFEFA schools.
Lynthia Luseka is a Grade 8 student. She loves English and social studies. She wants to learn more about history and become a famous leader like Wangari Maathai, a famous scientist and politician from Nairobi who won the Nobel Peace Prize in 2004.