Change means:
From petitioner to entrepreneur!
Interim report from Nairobi, August 2020
Dear Nyendo Community,
the tsunami of global change hit us hard with the lockdown in mid-March and "washed me and my daughter and grandchild" to Nairobi just in time. Privately, a dream has come true: Our second home on the doorstep of Nairobi, the Oseki Farm, is waking up from its slumber and gradually showing its true potential: a community farm, a permaculture training "resort" 😉
For our long-time friends and partners in the Kangemi and Kawangwareslum, the "Tsunami" shows itself differently – as a destruction of all achievements, all livelihoods. Those who could, went to their families in the countryside – there was good rain this year and the harvest is sufficient, the others are persevering. Everyone is looking forward to the future with horror. Thousands of private schools have already had to give up their business because they could not pay the rent. According to the president, the school year is to be repeated by everyone in January! Great astonishment on their faces! The parents will mutiny, they say. And what to do with the children when there are no more private schools and the state can only offer 6 schools for 80,000 children?
In the face of this total catastrophe, it is important to remain calm. When everything collapses, we need clarity, courage and concrete ideas, concrete steps above all. That's what I'm working on here on site together with a four-member core team from the circle of partners. Over a period of two months, we met two days a week at my farm and brooded over ways to boost social entrepreneurship in the slum. The reconstruction can only rise from the people themselves, when nothing of the old and accustomed works anymore. A catastrophe is always a chance. And the "emptiness" in between wants to be endured.
It is about "ownership", about personal responsibility,
and about flipping the inner switch to hope!
Michael Stenger, Ashoka Fellow and multiple prize winner, as head of the Schlauschule in Munich, succeeded in ensuring that 90% of under-age refugee children without German language skills achieved a secondary school leaving certificate in 2 years. "When the inner switch from hopelessness to hope is flipped, these children are unstoppable and release undreamt-of powers", Stenger once explained to me correspondingly.
Prerequisites for sustainable projects and structures are: Experiences of success from your own strength, together with others! Self-confidence, responsibility, commitment and cooperation is the cocktail that promises success and sustainability.
According to Prof. Hüthers, children learn best when they are invited, inspired and encouraged. Doesn't that also apply to us adults too? Over the past months I have been networking with various energetic personalities with impulses and visions, here in Kenya and internationally, online and offline. Some of them are already familiar, others new.
Nyendo activities in Nairobi since the lockdown in mid-March 2020
Acute support/financing by Nyendo
We were able to pay half a salary to all 150 teachers of the 12 partner slum schools in April and a full salary in May.
Simiyu, Headmaster of Kangemi Youth School, and his family of 6, was able to convert and move premises on the Kangemi Youth School school property to their rent-free new home with our support.
Veronicah Nduku, principal of the Love School, was also supported with 3 months rent.
For Felistas Kiamba and Tonny Karori (employee in the Nyendo office) 2 laptops were bought.
We financed Tonny's idea of a mobile farming project in the pilot phase with 400,00 €.
The 8-week concept phase for INUKA SASA 2.0 (= Swahili: "get up", "rise now") was made possible by us through a contribution to living costs and the assumption of transport and food costs for the 4 participants.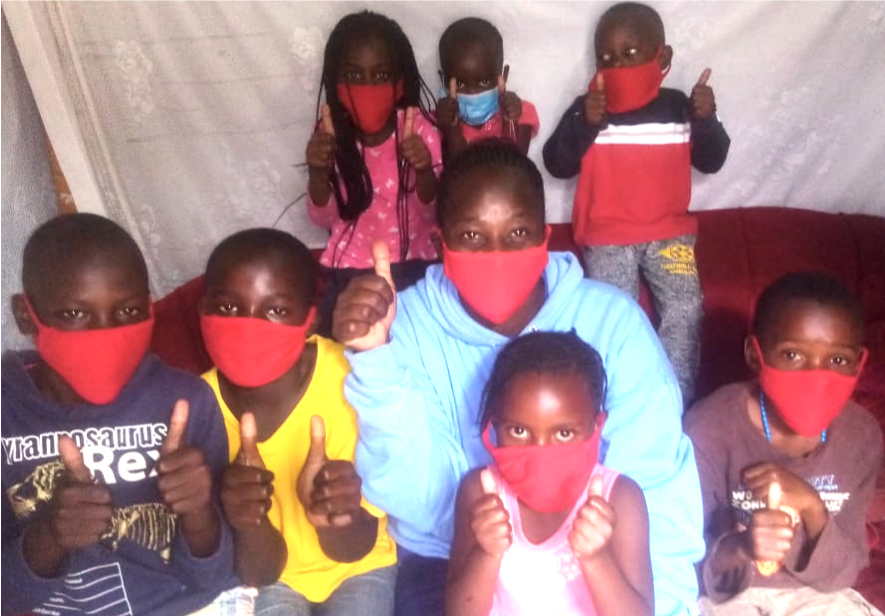 International networking, exchanging and idea development
The Inuka Sasa Entrepreneurship Summit planned for Easter 2020 could not take place. Instead we met online with some of the expected friends from all over the world, professors and social entrepreneurs, our young people and the Nyendo team.
Concretely this was the result:
A "think design" webinar about 8 seminars with Prof Esin Bozayzi and the Solar Learning Team Michel Sinn and Floriane Abadi as preparation for a "Sustainable Energy Project" in Kenya, https://solar-learning.org . Esin is founder and initiator of COP https://www.crossover-projects.com/about and advisor of Nyendo.
The concept development for a registered NGO, Inka Sasa 2.0, as a sovereign partner organization that supports our partner slum schools through projects with "social-initiative" teachers, parents and community members
The preparation for the first concrete project: NairoBits at the Kangemi Youth School. On their website https://nairobits.com it says that since 1999, as a non-profit organization, they have trained 6,000 young people in 6 schools in various slums in IT so successfully that 90% of the graduates have found work.
Mobile or Urban Farming
Project preparation at the Oseki Farm with Garden Towers – see photos. Discussions with possible new partners and visit at KYS and Kanyorosha School as potential base station for gardens in the slum for this project.
Networking and integration of possible new project partners for Nyendo in Kenya
Open for an extension of our Nyendo partner network in Kenya I am in contact with a Masai community via Geoffrey Nkoitiko Thjeu with Salome Rutere and her rural youth entrepreneurship project and a construction team in the Kibera slum via "Startsomewhere" www.startsomewhere.eu
Little is already visible, everything is still open, but much is inwardly in motion.
I greet the north most cordially,
Your Irmgard